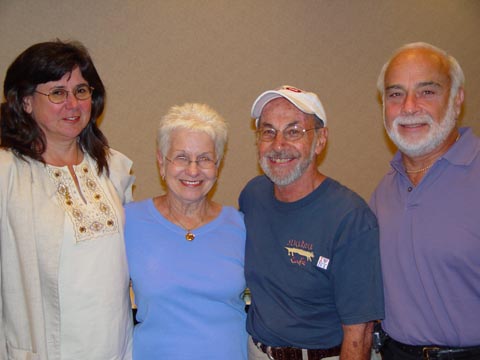 There were second in the 0-1500 Mini Spingold: Christine Woodring, Doris Banks, Paul Lenoble and Lew Kroll.
Jack wins computer title
Jack (the Netherlands) retained its title of world computer bridge champion, defeating last year's finalist, Bridge Baron (USA), 157-97 in the 64- board final.
Hans Kuijf's robot Jack, winner of the last four annual championships, is on top of the computer bridge world.
Next year's championship will be held during the World Bridge Federation's Bermuda Bowl and Venice Cup tournament in Estoril, Portugal.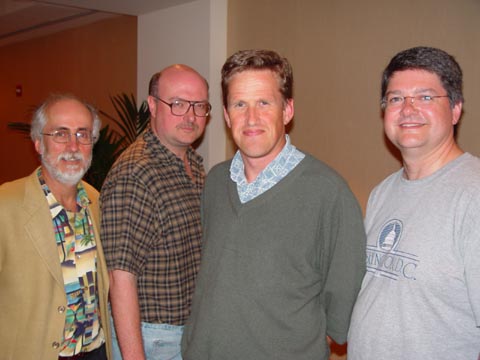 They were second in the 0-5000 Mini-Spingold: Dr. Morrie Kleinplatz, Keith Connolly, Andrew de Sosa and Dr. Bob Rebelein.
Masterpoint leaders

1 212.50 Zia Mahmood
2 190.00 Walid Elahmady
3 149.23 Gene Simpson
4 146.14 Karen Allison
5 145.83 Peter Boyd
6 145.83 Steve Robinson
7 144.26 Pam Wittes
8 142.50 John Mohan
9 142.50 Reese Milner
10 139.89 Disa Eythorsdottir
11 134.39 Ken Cohen
12 132.92 Nikolay Demirev
13 132.92 Jiang Gu
14 129.38 Michael Rosenberg
Why he left Hungary

George Rosenkranz responded 1NT to his
partner's 1D opening bid and played it there. After the play, a defender from Hungary said, "In Budapest we would have bid 4NT with your cards."
"I know," said George. "That's why I left Hungary."
---
New Life Masters
Joan Savage of Canton MI placed first in the Thursday/Friday Side Game, and that gave her enough points to earn her gold card. Her partner was Elaine Hall of Canton MI.
Susan Gilbert of Raleigh NC became a
Life Master during this tournament.
---
15 129.10 Irina Levitina
16 129.10 Hansa Narasimhan
17 123.43 Kathleen Sulgrove
18 122.03 Peggy Sutherlin
19 120.00 Renee Mancuso
20 120.00 JoAnn Sprung