Nickell roars back,
reaches final against
Spector squad
In one of the greatest comebacks in bridge history, the Nick Nickell squad erased a 71-IMP deficit over the final 16 boards to charge into the final of the Spingold Knockout Teams with a 154 - 143 victory over the George Jacobs team.
The result was held up while an appeal that would have affected the outcome was settled in Nickell's favor.
The winners – Nickell, Richard Freeman, Jeff Meckstroth, Eric Rodwell, Bob Hamman and Paul Soloway – will face the Warren Spector squad in today's Spingold final.
Spector and company – Mark Feldman, Ron Smith, Billy Cohen, Gavin Wolpert and Vincent Demuy – took care of the Mike Kamil squad with relative ease, 178-115. Spector started as the No. 28 seed, but the team has played as though that number should have been a low single digit.
Jacobs was playing with Ralph Katz, Steve Garner, Howard Weinstein, Lorenzo Lauria and Alfred Versace.
Entering the fourth quarter, things did not look good for Nickell, reigning Bermuda Bowl champions and possessors of many North American titles. They fell behind 52-44 after a quarter and saw the margin grow to 32 at the break. On the first four boards of the third quarter, the Jacobs squad outscored Nickell 32-0 and ended up winning the quarter 53-14. With 16 deals to be played, Jacobs had a 141-70 lead.
All of it – plus 11 IMPs – evaporated as Meckstroth-Rodwell and Hamman-Soloway were spectacular, outscoring their opponents 84-2 to make it to the final.
---
California-Illinois pair
lead NABC+ Fast Pairs
Jiang Gu of Mountain Lakes CA and Xiaodong Shi of Des Plaines IL took an 8-point lead after two qualifying sessions of the NABC+ Fast Open Pairs.
Their score of 813.91 was just ahead of the pair in second with two session to go today: Franco Baseggio of New York City and Samuel Ehrlichman of Ithaca NY. Peter Weidan of Brooklyn NY and Richard Zucker of Dobbs Ferry NY were third.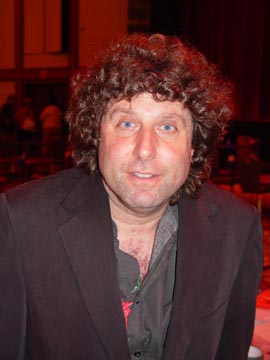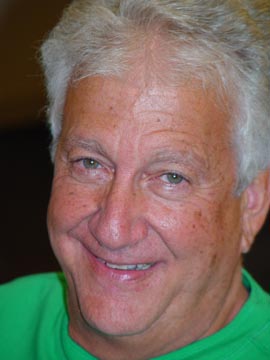 Gaylor Kasle, right, would have been on the stage or movie set, and Brian Glubok might well have been the producer of the show or movie. Check out today's pdf version to find out what these and other stars would be doing today if they weren't bridge professionals.




Winners of the 0-5000 Mini-Spingold: Alex Hong, Shi Yan, Hau Ge and Yi Liu. Team captain Larry Mohr is not pictured.
Comeback kids take
0-5000 Mini Spingold
When the team captained by Larry Mohr compared after the first quarter of the 0-5000 Mini-Spingold Knockout Teams, they knew they had their work cut out for them – they were down 75-5 to the Keith Connolly squad.
"We never gave up," said Shi Yan, a member of the winning squad, "because of what Larry told us. He said, 'The match is not finished yet.'" Indeed, the Mohr squad – Shi, Alex Hong, Hau Ge and Yi Liu – began their comeback immediately by winning the second quarter 55-30, then went crazy in the third stanza, stunning their opponents 74-22 to take a lead they would not give up. The final score was 185-165.
The runners-up are Connolly, Drs. Morrie Kleinplatz and Bob Rebelein and Andrew de Sosa. Mohr was not around to see the big comeback because he had to leave town, but the young team was pumped by the turnaround in the match.
Shi, known as Rock to his friends, and Alex Hong are recent immigrants from China. They live in Delta BC in the Vancouver area. They knew each other in China and played occasionally just for fun. The serious bridge began for them at the 2003 Summer NABC in Long Beach, where they met Mohr.
It was Mohr who matched the two Canadian residents with their teammates – Hau Ge, an electrical engineering student at Cleveland (OH) State University, and Yi Liu, who is a graduate student studying electrical engineering and computer science at the University of Wisconsin at Madison.
Said Hau: "This is an exciting game."
---
Onstott leads
Mixed BAM
The team captained by John Onstott of New Orleans held a one-point lead after two qualifying sessions of the Mixed Board-a-Match Teams. Onstott is playing with Carol Pincus and Jim Robison of Las Vegas and Lucy Tredennick of Lomita CA.
Their score of 35 was put them one ahead of Lisa and David Berkowitz, Marinesa Letizia, Margie Gwozdzinsky, Larry Cohen and Richard Schwartz.

Attendance to date - With one day to go the total attendance in New York has reached 12,497.5 tables.
---
Wilkinson is 2005
ACBL President
Chuck Wilkinson, a veteran bridge player and administrator representing District 10, has been elected ACBL President for 2005.
Wilkinson has long experience in just about every administrative position in his district, which covers his home state of Mississippi as well as West Tennessee, Arkansas, Alabama and Louisiana.
He has represented the district on the ACBL Board of Directors since 1990. Since he took up bridge in the late Sixties, he has served in a wide variety of positions at the unit and district level.
Wilkinson owns a company that manages investment portfolios for individuals and small pension funds. He is a graduate of the U.S. Air Force Academy, serving five years in the U.S. Air Force. He was a navigator on the B-52 Stratofortress aircraft.
Wilkinson's father was also in the military, so he moved around a lot as a youngster, but he has called the Jackson MS area home most of his life.
He and his wife, Robin, have been married for 12 years.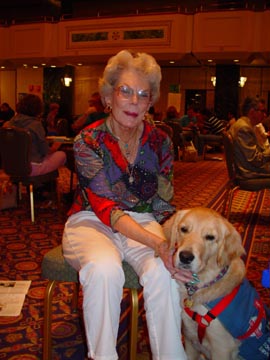 Terry Michaels, winner of the Prize Money Bridge Individual, top flight, and Sunny.
Michaels wins cash in
Pro Tour Individual
Terry Michaels of Prairie Village KS came up with a strong final session to take top honors in the three-session Bridge Pro Tour Individual. She finished well ahead of Marsha McElroy of Mount Laurel NJ and James Murphy of Chesapeake VA, who tied for second.
Michaels received $1040 for finishing first, and she also won some session award prize money. McElroy and Murphy each collected $330.
Arthur Malinowski of London, England, won the Prize Money Bridge Stratified Individual, worth $110. Thomas McDow of Rock Hill SC won the consolation.